Become a Friend of Johnson Creek
One of the most important ways that you can support the work of the Johnson Creek Watershed Council is by becoming a Friend of Johnson Creek with a tax-deductible donation. Your contribution helps make the important work of the JCWC possible, such as implementing restoration projects, providing educational opportunities, and coordinating the efforts of our partners.
Contribute to JCWC through Network for Good
What is Network for Good?
Network for Good is a nonprofit that helps other nonprofits process credit card gifts. When you click on the Network for Good image above, it will take you to a special page the Watershed Council has on the Network for Good website. Once you create a username and password you can securely donate a gift directly to the Watershed Council on this site using your credit or debit card. Network for Good charges 5% on each transaction (which is the standard rate) but they provide an option for the donor to cover this small fee as well.
Alternatively, paper checks can be sent to us at:
Johnson Creek Watershed Council
4033 SE Woodstock BLVD
Portland, OR 97202
Planned Giving
The end of the year is an excellent time to consider a donation to Johnson Creek Watershed Council. While JCWC is always pleased to accept cash gifts, there are a number of options to consider. You might want to consider donating other assets.
For example, gifts to charitable organizations can include appreciated stocks or other securities, personal property, or real estate. These types of in-kind gifts make no impact on your cash flow during your lifetime, can relieve you of the burden of managing property, and help reduce your assets and taxes in the future.
JCWC can be named as a beneficiary on your life insurance policy or retirement fund. This can have real advantages when it comes to income and estate taxes since retirement funds may pass tax-free to charities.
Funding a charitable gift annuity or creating a charitable remainder trust can provide you a fixed, regular income for the rest of your life.
There are many ways to give that cost you nothing during your lifetime, reduce your capital gains, save on federal estate tax, and provide JCWC with valuable capital to help us accomplish our mission. If you have questions about how planned giving can benefit you and JCWC, an attorney, CPA or financial advisor can help you make a decision that works best for you.
Other ways to Give:
Amazon
When you sign up for Amazon Smile, a portion of the proceeds from your purchases will benefit the nonprofit of your choice. Go to smile.amazon.com and search for our legal name: Johnson Creek Watershed Association.
Givium
Got stuff to sell? By using Givium's website, you can donate your earnings to JCWC. Go to givium.com for further instruction. Setting up an account is pretty quick.
Fred Meyers Rewards Program
Ever go to Freddies? By registering online, each time you make a purchase, a percentage of the proceeds will go to the charity of your choice. Choose JCWC and contribute to our mission even while you get groceries.
JCWC Beer Steins for Sale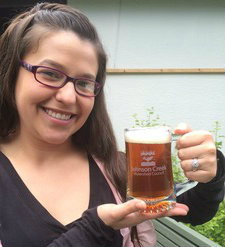 These glasses make a great gift. The 15 oz. steins are $12 a piece or two for $20, plus $5 for shipping.  The glasses have white stenciling with the JCWC logo. To order yours, email us at [email protected] 
(Communications Intern Megan Baesman models the JCWC beer stein)